2008-07-20 - BC Cup #4 Bear Mountain Challenge Race Day
I woke up this morning at Stupid O' Clock ... 5:30am to be exact. Why such a silly hour on a Sunday morning you may ask? Because shuttles started at Bear at 7:30am this morning! Martin was at my door by 6:20am. We loaded into his Element and headed to the race site.
As promised the shuttles started early so I managed 2 pre-runs this morning before shuttles ended at 9:30am. Both pre-runs went really well, I was hitting all my lines smooth and fast and had the bike dialed in well. The course recieved some love over night and was holding up in really good shape, major props to the builders for preparing not only a good course, but a course that has held up well.
Since I was done my last pre-run at 10am and my race run was due to be at 2:53pm, I had some time to kill. The majority of this was spent hanging out in the Pork Brothers Camp Site, where we all made fun of each other for hours on end.
At some point I wound up napping in the sun, and waking up to the realization that Brian was on course. I ripped over to the finish just as Brian finished his run. Woops. Michelle and Andrea also just missed his run. Double woops! After seeing that Brian had won his category I got ready and headed to the top of the course. I was due to be the 3rd to last rider down the course. Waiting at the top until only 2 riders behind remained was a bit wierd for some reason. The laughing and joking softened as more riders headed down the course. By the time I lined up in the start gate the clearing was quiet. "30 Seconds" I put on my goggles ... "15 seconds" I cliped in and stood on the pedals ... "5 seconds" a big deep breath ... "When you're ready" I cranked out of the start gate, railed the first right hand turn, 3 hard pedal strokes, left, right, 2 hard pedal strokes, stay left, hard right and into the trees ...
My run went well. I made 2 small mistakes being a bit overzealous but all in all I had a good run, which felt great. After a 4 minute blur I was out of breath and crossing the finish line. Geoff crossed the finish, and soon after Grant. The results were up in minutes, and it was then I found out I placed 2nd in Elite ... my first Pro podium! My time was 7 seconds faster than last year, which I am equally stoked about.

On my race run, beside the rock drop - Photo by Danielle Baker

Cruising through the burm after the rock drop - Photo by Tyler Maine

Sucking up the first of the crowd pleaser gaps at the bottom of the course

Hipping it over the second of the crowd pleaser gaps at the bottom of the course
After many high fives and smiles the awards started within 30 minutes of the last racer coming down the hill. There was a mound of prizing that was given out by name draw. I scored a 9 speed chain, which is awesome because its a draw prize I can actually use.

During awards Morgan puked on Erica

Morgan was also introduced to mountain bikes ...

Robbie 2nd in Citizen 30+

Brian Brittain 1st and Gordo Longden 3rd in Master Expert 40-49

John, Bryon and Eric 1st, 2nd and 3rd in Master Expert 30-39. John is a gracious winner ... 4 wins for John, 0 wins for Bryon ...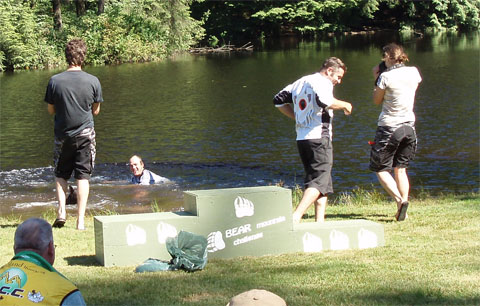 Daryl was 2nd in Senior Expert, and thrown in the pond. Note the bag of sand in front of the podium

Pro/Elite podium where I stood on the 2nd box

I too was thrown in the pond for my efforts
The 2008 Bear Mountain Challenge was an fantastic event yet again. The organization was great with the race starting and finishing on time. Cheers to all the volunteers, you guys did an amazing job make a great race happen. I'm stoked to have made my first pro podium, and hope to have continued success in the last 4 races of the season.
Bear Mountain Challenge 2008 Results
A PinkBike write up of the event
Yeah Coleman - Dan, 2008-07-29, 14:09:51


Congrats buddy on the 2nd place!
And now for some clever comments:
Please Leave a Comment: